I'm thrilled to have received premium shelf space for the entire year at our local bookstore, despite the fact that Silver Lake is my debut novel, published with a small press with limited distribution of print books. How did I do it? My persona with the MBA in Marketing wants to say I used a combination of push and pull strategies. But what it really came down to was hard work and luck.
My first inquiry at the independent bookstore in our town was received with only mild interest. Local bookstores like to help local authors, but there are many local authors hoping to sell their work. And since Silver Lake is a POD (print-on-demand) title, ordering copies requires either a leap of faith (no returns) or a consignment agreement (more paperwork).
Determined, I visited a few more bookstores in neighboring towns, dropping off postcards. And I got lucky--one store was having a Halloween event, and felt my ghost story would be a perfect fit. Would I be interested in doing a signing at the event? You bet! I immediately dropped off some advance copies of Silver Lake by request, and received my first consignment agreement.
Now I had a signing scheduled and I was in one bookstore. I saw an opportunity to capitalize on these positive developments. The local paper had agreed to do a story on my book when I first contacted them, so I followed up with the editor there. I emphasized the Halloween/ghost story connection and politely asked if the article could make it into the paper in time for my book signing. Another piece of luck fell into place: they said yes, they could do that.
I raced back to the bookstore in our town with something to offer: I was being featured in our local paper this week, and they would list my book signing events. We quickly set one up--now I had 2 book signings in one weekend with a corresponding newspaper article on the front page of the Arts section. It was a banner weekend!
So that was mostly a push strategy--hopefully I wasn't too pushy, but I was persistent. Signings are a lot more difficult that I imagined, but with the help of the bookstore owner and the news article, I began getting Silver Lake into the hands of local readers.
Thankfully, readers liked it--so much so that several members of the town Women's Club nominated it as a 2013 selection for their Book Club. A book for each month of the upcoming year is chosen in December, and Silver Lake was selected for January. I was ecstatic! Now I had a book club creating demand for my book, a pull strategy. The bookstore owner requested more copies, which I delivered immediately.
Then she showed me the best part: all the town book club selections for 2013 stay up on the main shelf for the entire year, labeled with their club and month. Silver Lake is up on a shelf beside titles such as Gone Girl, Body Surfing, Room and The 19th Wife. My next-door neighbor up there is You Learn by Living, by Eleanor Roosevelt. Nice company!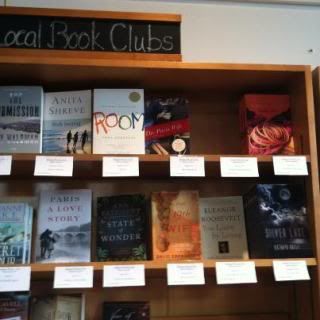 I wish I knew of a magic formula in this competitive market for those of us without well-known names and enormous advertising budgets. For me, leg work and lucky timing were two big factors for getting up on the shelf. But there is one thing that I think is probably the most important: coming out of your comfort zone. Most authors, including myself, would prefer to write. It's what we do. Selling ourselves is hard. We'd prefer people to just want to read our books--but they never will if they haven't heard of it!
In terms of digital promotion, I asked my publisher if we could do a limited time Kindle & Nook sale at 99 cents. It's currently ongoing, so I can't say for certain if a low sale price will generate a significant bump in sales. But so far, Silver Lake's Amazon sales rank has improved during the sale, so that's encouraging.
So that's my story. I'd love to hear yours--what has worked for you in terms of marketing? Have you had any lucky breaks? Forced yourself out of your comfort zone? Has it paid off?